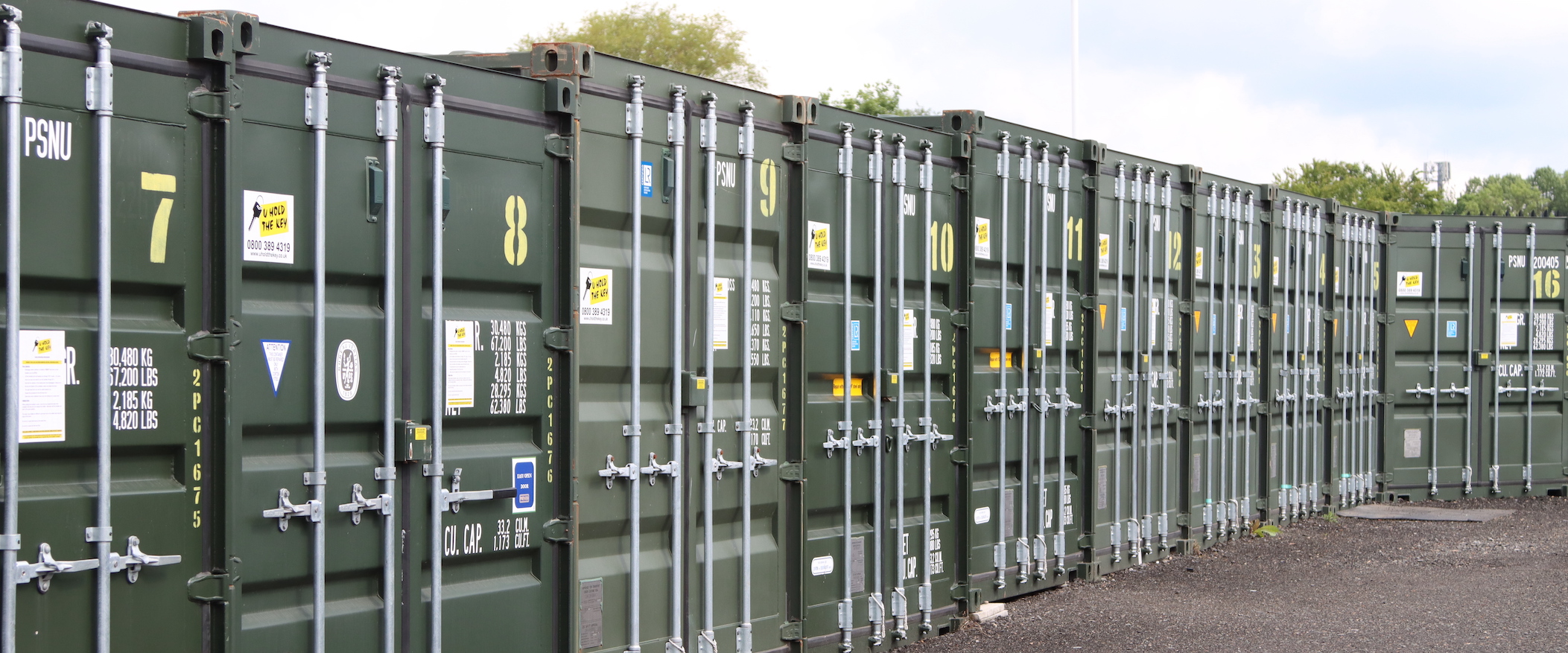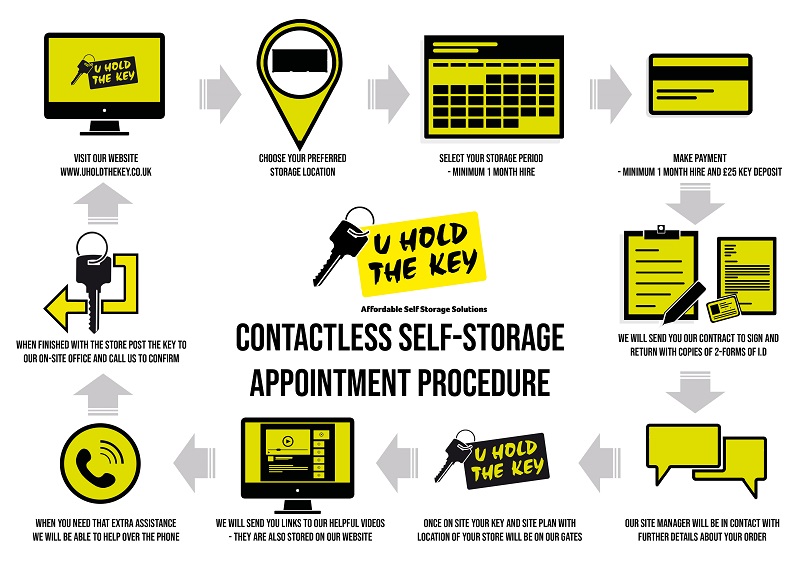 We are happy to introduce our new contactless self-storage appointment procedure, that was introduced the 25th March 2020.
Follow our easy step-by-step contactless appointment procedure
Step 1 - Visit our U Hold The Key Self Storage website
If you are in the need of temporary storage we have 10 self-storage sites located throughout the North East of England and 1 based near Grantham, Lincolnshire. Our website www.uholdthekey.co.uk is filled with helpful information about our service and how easy it is to arrange an appointment to take up one of our storage containers.
Step 2 - Choose your Preferred storage location
With 11 storage locations we hopefully have a storage site near to you. We can help you find your closest U Hold The Key site to your postcode using our new 'Find your nearest storage' page here.
Step 3 - Select the period length for storing
Once you have selected the best location, select the period you would like to store. When selcting your time frame we require a minimum of 4 weeks selected (however our minimum hire period is 1 week storage, and we will refund any days unused once we receive the key back).
Step 4 - Arrange payment
When arranging payment we have 2 options that can be selected.
Option 1 - Pay the total amount
This option will require you to pay the full amount for the amount of storage you have selected (more than 1 month) plus the £25 refundable key deposit.
Option 2 - Pay key deposit + 1 month minimum rental period
If you are uncertain of how long you will require temporary storage, you can select this option to pay for the first months hire plus the £25 refundable key deposit.
Step 5 - We will require confirmation and proof of address
Once we have confirmation of your online order, we will send through our storage contract that will need to be signed, printed and dated. This is then to be returned to us, along with a copy of 2 forms of identification which includes either a passport or driving license and either a utility bill or bank staement with proof of your current address.
Step 6 - Our site manager will contact you with further details
Our site manager will be in contact with you shortly after we have booked in your appointment, to discuss the next steps of our contactless storage appointment procedure.
Step 7 - Collect your storage container keys
Once you have confirmed with our site manager, we will have been to site and prepared the storage container for you and have your key to the container, fob to gain access through our electronic gates/barriers and site plan with your store highlighted.
Step 8 - We will contact you with helpful videos
With our new contactless procedure to take up one of our storage containers you will collect your keys without contact from our site manager. We have produced helpful how-to videos showcasing using information relating to our storage facility and storage containers. We will send links to all our videos once we have confirmed your storage order and can be found here.
Step 9 - Contact us if you require extra assistance
Even though our procedure is contactless we are still here for you and will help any way we can over the phone, so don't hesitate to contact us if you require any additional assistance.
Step 10 - Return your storage keys
When you no longer require temporary storage, all you need to do to return your keys is very simple. Make sure you are ready to leave the storage site and have scanned your fob and the electronic gates are opening (if applicable). On all of our container offices we have a letterbox, post your keys here and drive off site before the gates close. Once off-site call us on 0800 389 43 19 and let us know that you have returned you keys and let us know which storage container and site you were storing on. We will arrange to confirm these as soon as possible and settle your accounts and return your £25 key deposit to you.